Getting Started
If you reside outside Uganda, you want to make your way into the country. By air, you need to find a flight into Entebbe airport, which is the International airport. Most major airlines will be able to arrange this easily. Entebbe is 30km from Uganda's capital city Kampala. Kampala is a convenient initial staging post for the trip to the Rwenzoris
Rwenzori bookings (including transportation and accomodation in Kampala) can be made through a number of travel firms operating in Uganda. You should book in advance to guarantee entry. Facilities on the mountain are limited, so don't count on gaining access onto the mountain by just "showing up"!
Best hiking conditions are to be had during the dry season (Dec-Feb and Jun-Aug). Hiking during the rainy season is practically out of the question, given the extreme wet/cold conditions and the attendant risk of mud slides.
What You Need
Apart from a decent level of fitness, you should ensure at least the following equipment is in your possession prior to attempting the trek up the Rwenzoris:
Hiking Boots, Gum boots: A sturdy set of hiking boots is crucial, particularly in the early stages of the climb, and in the trek across the glaciers. Gum boots (wellingtons) are essential equipment in the muddier sections of the mountain trail.
Rucksack: A strong, waterproof bag is a good idea. At the best of times Rwenzori can be wet (really wet). This will help keep your essentials dry while you walk.
Cooking utensils: If you plan to do your own cooking, a light stove, some plates and cups are in order. It is possible to hire a cook for the trip (and might actually be a good idea given how tired one gets), but do still plan to have at least the bare essentials (plate, cup, fork, knife, etc)
Warm stuff: Past the first camp the mountain gets significantly colder (definitely below 10°C and certainly below freezing at some camps). A good fleece, warm shirts and pants, a decent sleeping bag, all count as bright ideas. A good pair of warm, waterproof gloves is essential as well (particularly for those attempting the peaks).
Emergency kits: Emergency medication (e.g. painkillers) are a good idea. For a significant part of the journey, you will be at least a day away from even the best emergency services.
Food: Most trekkers bring their own food. Some food can also be bought at the Park HQ. Be sure to carry food that provides lots of energy. Glucose packs, sugary juice mixers, chocolate, dry porridge mix are advised. There is usually no good reason to carry water, as the mountain provides lots of natural, clean, safe drinking water.
Equipment: There are huts at all camps, but you may wish to carry a tent as it can improve journey flexibility. Be sure to carry the usual camping gear: Lighter, torch, toiletries, GPS, etc. However keep in mind that while you will have porters to help you carry your equipment, there is a hard limit (22kg) as to how much each porter will carry: You therefore have to hire more porters if you have lots of kit.
High-quality camping gear is generally not readily available in Kampala. The Park HQ has a limited number of tents, rucksacks and boots for hire, be sure to speak to them before-hand to establish availability.

Park HQ also provides crampons, ice axes and ropes for hire, for those intending to attempt any of the peaks, but you can of course carry your own.

Warm stuff can generally be purchased in Kampala. The Owino second-hand clothes market near the Old Taxi Park is a rather excellent source, if you don't mind that the clothes are used. Food and medicines can be purchased from any decent supermarket in Kampala or Kasese.
Getting There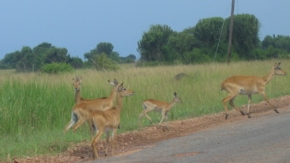 To reach the Park Headquarters at Nyakalegija, one can either travel to Fort Portal or Kasese, both in Western Uganda. Fort Portal, which is 300km from Kampala can be reached via Mubende town. Total journey time is about 4hrs. Kasese, which is about 350km from Kampala, can be reached via Masaka, Mbarara and Bushenyi. (The Kasese route, though longer at 6hrs, is perhaps more interesting as it passes through the excellent Queen Elizabeth National Park – a recommended stop.)
Both routes are well-services by public transport out of Kampala.
5-10kms outside Kasese on the Kasese-Fort Portal Road, one will find the signpost for the National Park. From the turn-off to the Park HQ is approximately 15kms, travelling through villages, where you can ask for directions.