The Camps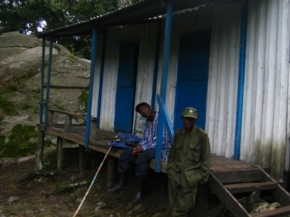 As detailed here there are a number of established camps along the main trail. Conditions/facilities differ. This page provides a brief overview of each camp.
Nyabitaba Camp
At 2660m above sea-level (0° 22.40′ N 29° 58.66′ E), Nyabitaba is the Day 1 camp. Legend has it that this camp site was a homestead of a local chief who grew tobacco here (some of which still grows near the main hut) hence the name of the site (The name roughly translates "Place of tobacco"). At this camp is a 2-room aluminium hut, inlaid with wood. There are two pit latrines, running water (piped down from Lake Mahoma).
The camp is generally quite warm, given the relatively low altitude. Afternoons are generally sunny, providing much-needed warmth.
Nyabitaba, perched atop a ridge, is situated in a lightly forested area. One can see the beautiful Portal Peaks to the north. From this camp, Lake Mahoma is accessible within a short distance to the west. As such a two-day trip into the Rwenzoris is conceivable and still offers a rich experience.
John Matte Camp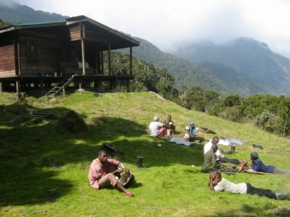 Named after a founding president of the mountaineering club of Uganda, John Matte (3420m, 0° 22.90′ N 29° 55.69′ E) is situated on a grassy hillside on the banks of River Bujuku. The camp tends to be quite wind-swept and therefore cold, although the occasional afternoon sunshine may offer some warmth. The ground does however get soggy quite quickly when it rains.
The camp consists of a 3-room wooden hut. A pit latrine is available, as well as a make-shift kitchen and porter's accomodation. On a clear day, the Portal Peaks as well as Margherita are visible from John Matte.
Bujuku Camp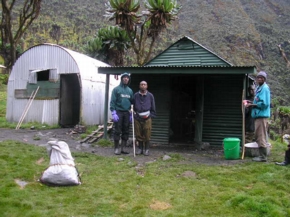 Situated on a slope at the northeastern tip of Lake Bujuku, Bujuku Camp(3930m, 0° 22.98′ N 29° 53.19′ E) has perhaps the poorest facilities at present. Consisting of a single-room tin hut (there is another for the guide and porters), this camp can be quite cold.
The camp offers a breath-taking view of Lake Bujuku and the surrounding peaks. On a clear day, Scott Elliot Pass, the Stanley Plateau and Mt. Baker can be seen clearly. This camp also offers opportunities to spot the elusive duika antelope.
The camp is a staging post for the trip to Elena Hut (and hence to Margherita) or to Mt. Speke. Trekkers to Mt. Speke will head out of this camp to attempt the peak.
Elena Camp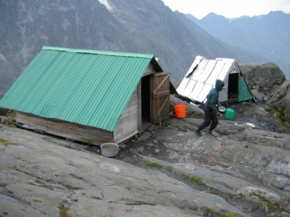 Wedged between two large flat rocks, Elena Hut (4563m, 0° 22.27′ N 29° 53.86′ E) is the staging post for climbing Mt. Stanley. At the best of times conditions at this camp are bleak. Temperatures at this camp-in-the-clouds hover around the freezing mark during the day, and plummet will below freezing at night.
On a clear day the camp offers a excellent views of Mt. Baker, Mt. Speke and Lake Kitandara. It also offers the first close-up view of the Mt. Stanley glaciers.
The rocks around Elena Hut can be quite treacherous when wet. In addition, finding ones way over these rocks can be tricky, given the dearth of landmarks. Paths are however conveniently marked using small heaps of stones.
Kitandara Camp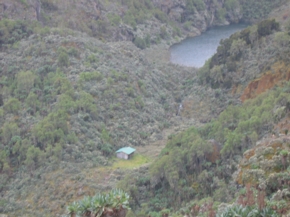 Situated on the shores of Lower Kitandara Lake, Kitandara Camp (3979m, 0° 20.70′ N 29° 53.05′ E) easily wins the camps beauty contest. The one-room tin hut notwithstanding, its location next to the beautiful Lake Kitandara is simply breath-taking. On a good day it offers views of the Savoy Glaciers, and a number of peaks in the area.
Given its relatively warm conditions, the surrounding forests support a variety of bird species, which can be heard chirping throughout the day and night.
An alternate route to the summits passes through Kitandara. Mt. Baker is also best approached via Kitandara (and a climb to Freshfield Pass).
Guy Yoeman Camp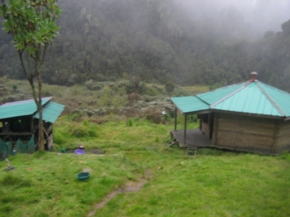 Situated on a the banks of River Mubuku, Guy Yoeman camp (3505m, 0° 20.61′ N 29° 56.47′ E) is surrounded by coniferous forests. The camp consists of a single 2-room wooden hut (and another for the guide and porters), a make-shift kitchen and a pit latrine.
Near the camp is a spectacular waterfall, perhaps 30 metres high. 
The camp offers reasonable warm conditions, with daytime temperatures in the 10-15°C region. However the camp tends to be quite wet and misty during much of the year.