The Trail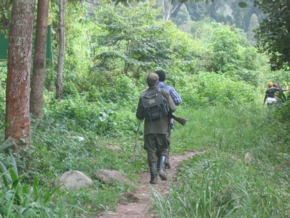 The main trail, known as the Central Circuit, can be completed in about 4-10 days, depending on the itinerary one chooses. More trails are being developed, and we promise to bring you information on them as soon as we have it
The central circuit is divided into stages, with each stage beginning and ending at an established camp site. Each stage is designed to be covered in a single day. The trail begins at the Park entrance in Nyakalengija, passes through Nyabitaba Camp, heads through John Matte Camp, Bujuku, Elena (optional), Kitandara, Guy Yoeman, returns to Nyabitaba before heading back down to Nyakilegija.
Throughout your journey you will be accompanied by an armed ranger, a guide and of course your porters. It pays a great deal to engage them. Though their English is not always up to par, you will find them very interesting, highly knowledgeable and friendly.
More experienced trekkers may wish to discuss alternative itineraries with their guide (it is perfectly acceptable to skip some stages), although it is wise to give due consideration to your guide's advice!
Day 1: Nyakalegija - Nyabitaba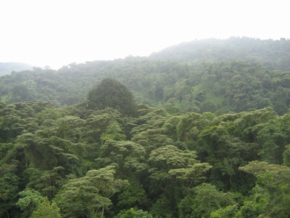 This first day's journey begins at the Park Headquarters. An early start is advised, as you don't want the hot tropical sun beating down on you as you attempt the steep sections! The trail passes along the western bank of the Mubuku River, passing through villages, leading up to the Park entrance. It takes about 45-minutes walk to get to the Park Entrance. (Be sure to have your receipts ready for inspection by Park authorities)
At the Park entrance, the trail slopes down towards the river, passing through lowland equatorial forest. Reaching the river, the path bears left away from the river, through more forest until one comes to a small bridge. Crossing the bridge, one starts climbing a moderately steep ridge. Elephants inhabit this area, and evidence of their presence (improbably large mounds of dung, huge passageways in the bush) will be seen. A word of caution: The elephants in this area are not very friendly, thanks to poaching activities during years past. Your guide and ranger are trained to detect elephant presence quickly and react to ensure your safety!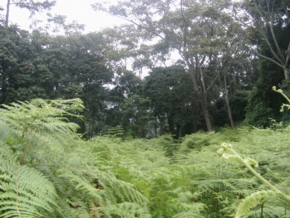 Elephant territory on this section ends at Mahoma bridge, some 2hrs into the journey. Mahoma bridge is a good resting place. Have some refreshments because up ahead is one of the longer and steeper climbs of this section. This part, which should take you the better part of an hour to conquer, passes through more forest (where, if you are lucky you may see monkeys and chimpazee), then through a field of ferns. As you gain more altitude, you will notice hanging moss growing on tree branches, and subtle changes in the forest vegetation, as trees become more spindly, and undergrowth thins.

You should arrive at Nyabitaba Hut about 4-5hrs after leaving the Park HQ. (You should feel dog tired. This is normal!) This is your Day 1 rest camp, where you will spend the night. More information about Nyabitaba can be found here.
Day 2: Nyabitaba - John Matte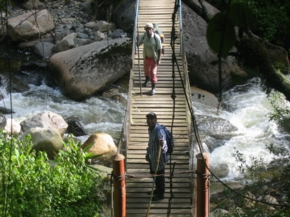 Day 2 is considered by many to be one of the harder treks. Starting out early, you will proceed up the Nyabitaba ridge and then descend down into the Mubuku River valley, to cross the confluence of the Rivers Mubuku and Bujuku at the Kurt-shaeffer bridge (a magnificent piece of simple, yet effective suspension bridge construction). After the crossing, you will begin to climb rather steeply (and perhaps wonder whether this whole trek was one big mistake on your part). This part of the trail leads you through bamboo forest, along a ridge that overlooks the Bujuku River valley. As you climb you are surrounded to the left and right by massive cliffs.
Bamboo forests rapidly give way to moss-covered high altitude forest. As one rises higher, the amount of moss increases. Most of this section is also characterised by massive boulders, which contribute to the general difficulty of this part of the trek, as one has to keep climbing over them.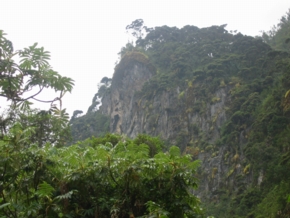 About 3 hours into the trek, one reaches Nyamileju hut, a camp that has now been abandoned. This is usually a good point to have a spot of lunch, and rest briefly before proceeding. The rest of the journey continues to follow the Bujuku River valley, rising steadily, passing through moss-covered corniferous forests (beware protruding roots that trip one easily), towards John Matte.
Near John Matte camp, if you are lucky you should get your first glimpse of Mt. Stanley and Margherita (the highest peak). As the weather on Mt. Stanley changes frequently, Margherita will typically appear and disappear over the course of this part of the journey.
A final climb, past the first signs of bog, and through some giant lobelia, and you arrive at John Matte Camp. Expected journey time is 5-7hrs depending on level of fitness.
Day 3: John Matte - Bujuku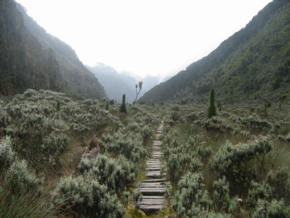 The trail to Bujuku camp heads west out of John Matte, crossing the Bujuku River, and heading out over the Lower Bigo Bog. This presents the first encounter with Bog, a kind of high-altitude swamp. Gumboots and a walking stick are essential equipment in this territory, and it pays to watch and listen to your guide. One wrongly placed foot, and you will find yourself waist-deep in mud!
After crossing Lower Bigo, the trail leads upwards to Bigo Hut, an abandoned camp. From Bigo Hut, the trail climbs up a steep incline, leading up to Upper Bigo Bog. Wooden slats have been placed over the bog to make it easier to cross.
This part of the trail has a number of interesting plants, including giant lobelia and Everlasting Flower (said to have a 40-year flowering cycle). While breathing will be getting a little difficult and the body under more strain, it is worthwile taking time to savor the beauty of this part of the trail.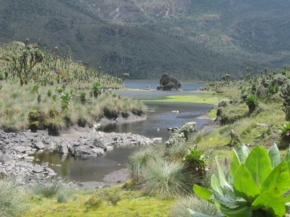 Out of the bog, and a short climb later, Lake Bujuku will be sighted. Giant groundsel abounds. To get to Bujuku Hut, Lake Bujuku is skirted to the east. This is no easy task as the banks are generally quite muddy even in the dry season. Bujuku Camp is fairly cold, but if you are lucky there may be a spot of afternoon sunshine to warm you up. You will almost certainly need to dry off a few clothes (yes, only the very expert avoid a close encounter with the bog), take some afternoon tea, and prepare for bed. Journey time to Bujuku is 5-6hrs.
Day 4: Bujuku - Elena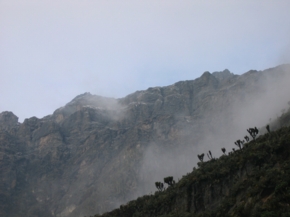 From Bujuku, one may hike up to Mount Speke directly, or to Mt Stanley and hence Margherita, via Elena Hut. The trip from Bujuku to Elena usually calls for a late start, since the journey is short (3-4hrs) and Elena quite cold (you don't want to get to Elena too early in the day — there is nothing much to do there but brave the cold and wind).
The trail from Bujuku leads up a fairly huge and intimidating ridge. Rising on the Western side of Lake Bujuku, the ridge leads up to Scott Elliot Pass at 4500m and on to Elena. The climb is quite steep for the most part, and vegetation thins noticeably the higher one climbs, until Scott Elliot Pass where the trail consists of moss-covered rocky ground with no trees.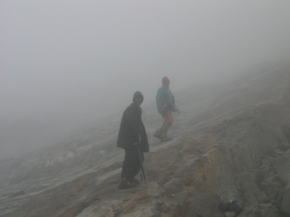 The trek up to Scott Elliot pass is one of the hardest of the entire journey, as it involves a fairly rapid ascent at high altitude. At the Pass, trekkers heading to Elena bear right towards Elena Hut, while those heading to Kitandara bear left and start to decend.
Heading to Elena from Scott Elliot Pass, one can soon spot Elena Hut, perched atop a huge rock. (It will however take another 30-45 minutes to reach the camp, thanks to huge rock ravines that have to be crossed.) The ground consists of large, fairly flat bare rocks, without any vegetation. This part of the trail can be quite treacherously slippery if there has been rain.
Day 5: Elena - Margherita - Kitandara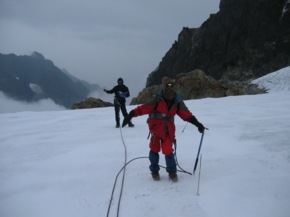 Perhaps the longest day of the entire journey, an early start is required. Your guide will determine if the trip to Margherita is possible based on weather conditions. Elena is frequently enveloped in clouds which degrade visibility, making a trek over the glaciers hazardous. Snow and rain are also likely to put a damper on any plans. (Forget weather forecasts; The weather at that altitude changes by the minute!)
By 6am, your guide should have assessed the situation well enough to determine whether the peaks can be attempted. Assuming all is well, you should head out of camp by 6.30am, heading over the large flat rocks, through deep ravines, climbing up to the snow line. You will have carried crampons, ice axes and ropes. At the snow line, the crampons are attached to your hiking boots, and all members of the team roped and harnessed together. The trek across the glaciers begins.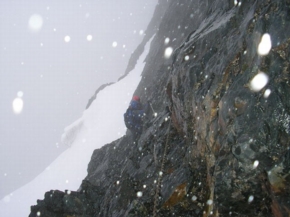 The first glacier one crosses is a rather small one, leading up to a small rocky outcrop, which one crosses before reaching the main Stanley Plateau. This is a large glacier, perhaps 1km across in any direction. The ice is extremely hard, rock solid, and one has to kick hard into the ground with the crampons to gain good traction. Crossing the Stanley Plateau takes 30-45 minutes, and involves little or no climbing. At the southeast end of the plateau, you leave the plateau and descend through a rocky ravine (crampons still on, so caution is advised!) to join the margherita glacier.
Joining the Margherita glacier, the really hard work begins. This part of the trail is quite steep as you go higher, and the ground covered in thick snow, which greatly reduces the effectiveness of the crampons in ensuring traction. It will typically take 2-3hrs to climb to the top of this glacier. Hazards abound, including deep crevices (many of which are often hidden by snowfall), and the constant risk of losing ones footing! Matters are not helped by the high altitude and attendant fatigue. Careful use of your ice axe to anchor your every move, as well as paying close attention to your guide's advice and actions should help make this a less nerve-wracking trek!
At the top of the glacier, you meet a vertical rock face with ropes dangling from above. At this point your guide will climb up the rock face and carefully belay you up the rock face onto a small ledge. From this point the peak is clearly visible a short distance away. What's left is a short scramble over the rocky ridge to reach Margherita Peak, the highest point in Uganda. The euphoria of the moment is perhaps only tempered by the thought of the hazardous journey back!
Given the fact that the summit is quite exposed and therefore windy (and rainy/snowy sometimes), a short stay is advised, followed by a rapid descent. While the trip up to Margherita takes 4-5hrs, the trip back down to Elena takes 2-3hrs. At Elena, a short tea break is necessary before the 3-4hr trek down to Kitandara camp.
The trail to Kitandara passes over mostly bare or moss-covered rocks down to Scott Elliot Pass. This section is quite treacherous, particularly if it has rained or snowed. At Scott Elliot Pass, the trail turns right, heading into a deep gorge. You are advised to keep the noise level down because of the risk of rock avalanches in the gorge. You should be able to see Upper Kitandara Lake in the distance.
Kitandara camp is reached via a series of short but tiring ridge climbs and descents, through wooded (and usually muddy) terrain. It is important to leave Elena early to ensure an early arrival at the camp.
Day 6: Kitandara - Guy Yoeman
Given that Kitandara Camp is fairly warm (warmer than Bujuku, even though it is at a higher altitude), the night spent here will be one of the more pleasant. An early start is advised, as the trek to Guy Yoeman is demanding and potentially long.
Heading out of camp, one must ascend a steep incline to reach Freshfield Pass. This climb takes 45-60 minutes and is quite demanding. At Freshfield Pass, the descent down the mountain begins. Passing first over moss-covered rocky ground, the trail descends into the bog-covered Mubuku River valley. Much of the terrain is criss crossed by small streams, and the going can be tough as the trail generally consists of either slipper rock or muddy bog.
Guy Yoeman can generally be seen from a great distance away along this part of the trail, as can Nyabitaba (on a clear day). After the bog, one passes under a major cliff (passing a camp site used by the Duke of Abruzzi in his quest for the peaks), heading down into the corniferous forests and on to Guy Yoeman. Total journey time is 4-6hrs depending on weather and terrain conditions.
Day 7: Guy Yoeman - Nyakalengija
The last day's trek leads out of Guy Yoeman, through wet/boggy forests, down a number of ridges into the Kichuchu (meaning "dusty place") cliff area. In parts this trail is quite steep and slippery. There is a particularly vertiginous spot near Kichuchu that will test even the strongest nerves! Here, the trail crisscrosses a stream flowing down a steep, slippery rock face. Some supports (in the form of wooden steps) have recently been installed, but the particular spot is still quite trying!
Past Kichuchu the trail heads into bamboo forest, continuing to descend, up to Kicucu Bridge, crossing point on the Mubuku River. The trail then climbs through more bamboo forest, following the western bank of the Mubuku River valley. The trail soon begins to descend down the Nyabitaba ridge, leading to Nyabitaba Camp.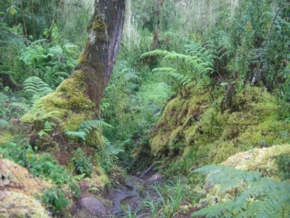 It takes 3-4hrs to reach Nyabitaba Camp. Assuming an early start from Guy Yoeman, most trekkers choose to have a quick snack at Nyabitaba, and head down to the Park HQ, a journey that takes an additional 2-3hrs. This is generally familiar territory, and will typically be covered quite rapidly, particularly since it is also largely downhill.